Hoodie Blanket | Your First Choice For Winter
The advantage of a hooded sweater, of course, is to keep warm! Especially in the cold winter. Wearing a hooded sweater hat and tightening the belt will not only keep your head warm, but also prevent cold wind from blowing into your neck.
Hooded blankets can also be used for sleeping, as pajamas in winter. Wearing pajamas at home is not only a fashion, but also a wise move for health reasons. Dark-colored pajamas are not good for human health, while plain or light-colored pajamas can calm the nerves. Bright colors are more likely to stimulate people's vision, make people unable to relax, and it is difficult for people with mental stress to fall asleep.
The design concept of the hooded blanket comes from the everyday hooded sweater. Hooded sweaters harmonize fashion and functionality, blend comfort and fashion, and become the first choice for young people's street sports. Of course, young people are also loyal fans of hooded sweaters. The graffiti design of the hooded sweater shows young personality, and comfortable wearing is the best equipment for leisure sports. And the hooded sweater is easy to match, sports pants, jeans or skirts can create a relaxed sense of fashion.
Hooded sweaters are not only very suitable for single wear, but also a very popular way of wearing inside, which is deeply loved by the public. Shooting in many star streets, you can always see his shadow hoodie. One of the charms of hooded sweaters is that most of the coats can blend well with it, adding a sense of youthful fashion. If you choose a calm and serious jacket, but don't want to wear too formal and serious, then you only need to choose a hooded sweater as an inner wear to weaken the formal sense of this jacket. Even with a hooded sweater inside a plaid jacket, it can show a sense of youthful fashion.
If you're not familiar, a hooded blanket (also known as a blanket hoodie or brand name Oodie) is essentially an oversized hooded sweatshirt lined with super soft wool and decorated with the same oversized kangaroo pocket. For storing your mobile phone, TV remote control, or a few bags of family-sized potato chips.
At first glance, they may not seem like the next "big thing", but the beauty of the hooded blanket lies in its simplicity. In winter, nothing is more comforting than being wrapped in the most fluffy and warmest blanket. The blanket hoodie makes the blanket more durable and can be put in the pocket, thus adding to the experience
It is basically a large pullover with a hood that doubles as a blanket, or simply, an oversized hoodie. Not only is it practical (it keeps you super warm), but it can also be stylish and comfortable. This is a versatile garment for your wardrobe, perfect for lying on the sofa, wearing after fitness, camping trips or sheltering on the beach.
Who doesn't like being wrapped in a comfortable warm blanket or wearing an oversized hoodie? Why not combine the two and add a blanket hoodie to your wardrobe?
As the definition of comfortable clothing, a blanket hoodie is one of the most comfortable items you may wear. The soft-covered blanket hoodie is perfect for boxed carnivals, cold work at home, and camping trips to keep warm under the canvas.
Last year, because we spent more time snuggling indoors, hooded blankets were very popular. Whether it is for yourself, a child or as a gift to your loved ones, there are many options to choose from
Material
The best materials for hoodies are cotton and polyester, or a blend of the two. Cotton is breathable and soft, while polyester is durable and wicks moisture. Many blanket hoodies are lined with wool. Fleece is an extra insulating fabric that can be made of natural cotton or synthetic materials
There are a lot of hooded blankets in every corner of the Internet, but we think you should master the following:
There are many color designs (black, blue, gray, pink, red, purple, etc.) to choose from. It has micro wool on the outside and super plush Sherpa lining on the inside. The kangaroo-style front pocket is as big as the hoodie itself-continue to store your phone, snacks, TV remote control, and any other items you might need while hanging out at home. The one-size-fits-all design is suitable for the whole family, in addition, it is machine washable and easy to clean.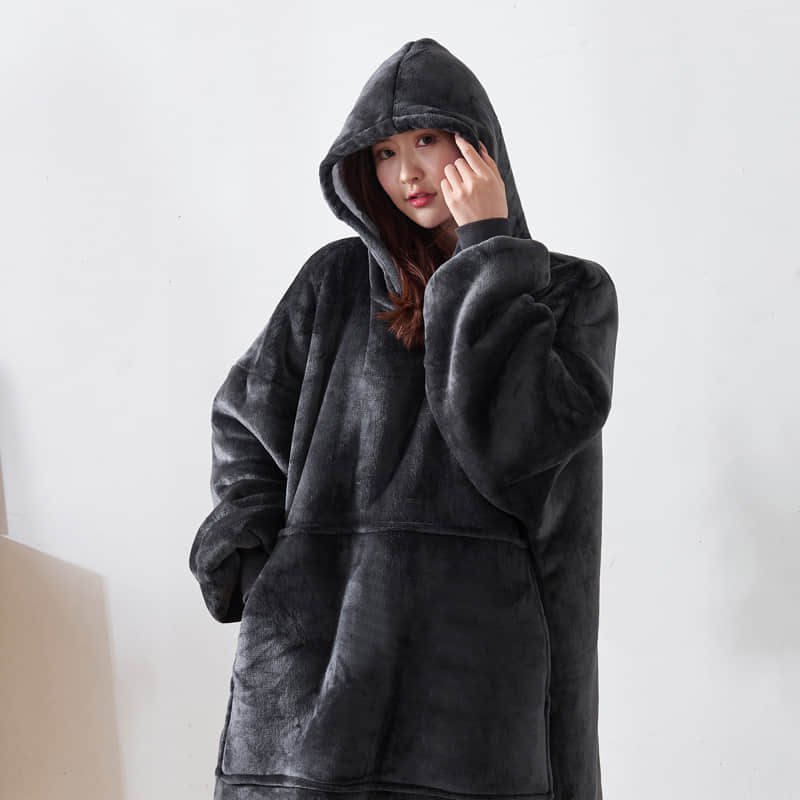 The dazzling rainbow design is ideal for home, and it is enough to make the journey chic.
Adult hoodie blanket, leopard print, skin-friendly, delicate, soft and comfortable, can be worn for reading, watching TV and playing computer.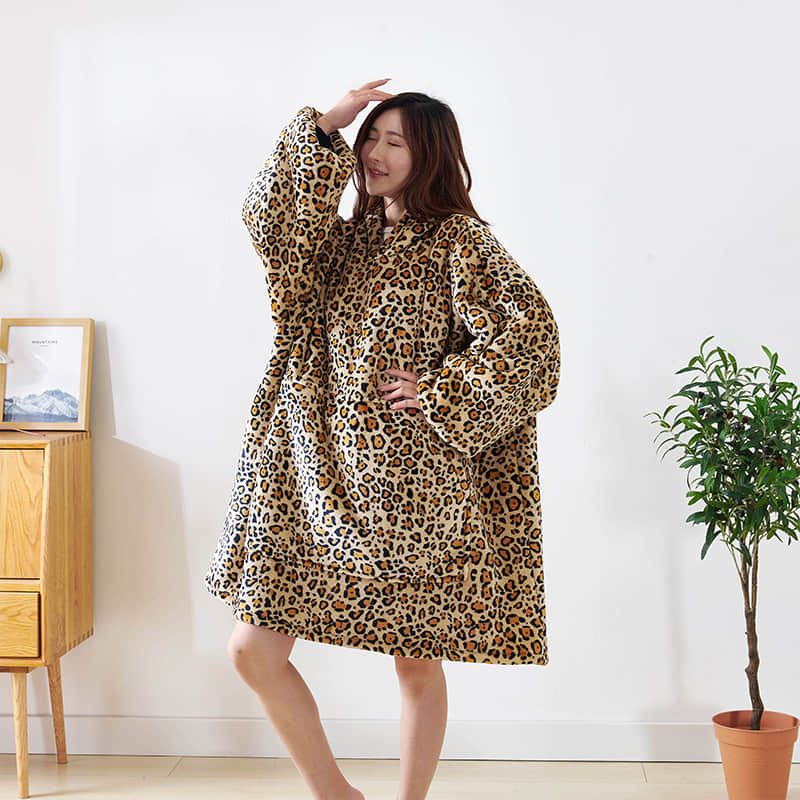 The ingenious design glows in the dark, giving people a novel feeling, and you are not afraid of not turning on the light in the dark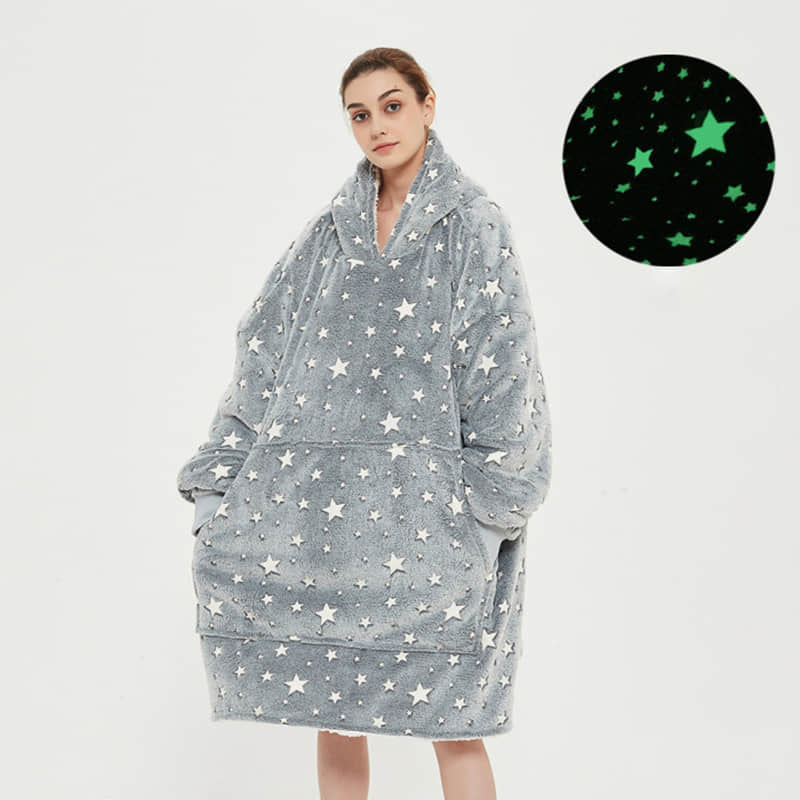 Can I wash my hoodie blanket?
You can definitely throw it in the washing machine to make it easier to clean. Make sure to set up a gentle cycle with a mild detergent that is safe for wool or silk. For maximum durability, you'd better wash it by hand.
Is the hoodie blanket size suitable for everyone?
Adults or children.
Adult size for people 13 years and older
And children are suitable for children from 3 to 13 years old